At the United Nations Conference Centre in Bangkok, Thailand, from 1 to 4 October 2019, EASD Honorable President participate at IP3 – The Intersessional Process 3 on Strategic Approach and sound management of chemicals and waste (SAICM) beyond 2020 , and technical briefings held on 30 September 2019, as well as IPEN preparatory meetings  on 28 and 29 September.
This is the opportunity to engage in a forum that will determine what key strategies and priorities that will be taken by all IP3 SAICM delegates. Focus are themes: Enabling framework as an umbrella adopted at ICCM5 and ensure high-level political endorsement, Governance and institutional arrangement, Financing SAICM with more contributions from the industry sector and Leading indicators for new SAICM should be outcome oriented rather than process oriented.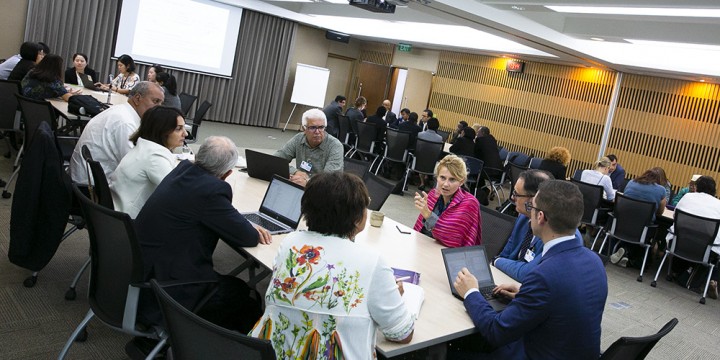 Relevant SDGs goals are: SDG2 – Zero hunger, SDG3 – Good health and well-being, SDG5 – Gender equality, SDG6 – Clean water and sanitation, SDG8 – Decent work and economic growth, SDG11 – Sustainable cities, SDG12 – Sustainable Consumption and Production, SDG14 – Life below water, SDG15 – Life on land, SDG16 – Peace, justice and strong institutions and SDG17 – Partnerships for the goal.
EASD team , from January 1,2018 will follow activities through SDGs lenses:
SD GOAL 1 – No Poverty SD GOAL 2 – Zero Hunger SD GOAL 3 – Good Health and Well-Being
SD GOAL 4- Quality Education
SD GOAL 5 – Gender Equality
SD GOAL 6 – Clean Water and Sanitation
SD GOAL 7 – Affordable and Clean Energy SD GOAL 8 – Decent Work and Economic Growth SD GOAL 9 – Industry, Innovation and Infrastructure SD GOAL 10 – Reduced Inequalities
SD GOAL 11- Sustainable Cities and Communities
SD GOAL 12 – Sustainable Consumption and Production
SD GOAL 13 – Climate Action
SD GOAL 14 – Life below Water
SD GOAL 15 – Life on Land
SD GOAL 16 – Peace, Justice and
Strong Institutions
SD GOAL 17 – Partnerships for the Goals
In addition, we are following our activities as  UN Environment TOPICS:
AIR
CHEMICALS AND WASTE
CLIMATE CHANGE
EDUCATION AND TRAINING
ENVIRONMENTAL GOVERNANCE
FORESTS GREEN ECONOMY RESOURSE EFFICIENCY SUSTAINABLE DEVELOPMENT GOALS WATER SCIENCE, INNOVATION
ENVIRONMENT UNDER REVIEW ( ENVIRONMENTAL ASSESSMENT, INFORMATION MANAGEMENT).
The goal of this activities categorisation is EASD strategic planning of activities in future. It is also lesson learned after EASD representative participation at UNEA3 in Nairobi.
Multi-stakeholder partnerships at the national, local, regional and international levels, that are solution-oriented and inclusive of all groups, including women, indigenous peoples and minorities, will be crucial to realizing these joint aspirations and will be a key element of the 2030 Agenda and SDG implementation.
The successful adoption of the 2030 Agenda for Sustainable Development Goals was the result of more than two years of intensive consultation and engagement of all stakeholders.
The UNEP Regional Office for Europe, in partnership with the European Economic and Social Committee and the European Environmental Bureau,  organized a multi-stakeholders meeting on the implementation of the 2030 Sustainable Development Agenda, combined with the yearly UNEP Regional Consultation Meeting for Major Groups and Stakeholders on 12-13 November 2015 in Brussels, Belgium. EASD participated ( report).
Sustainable Development Indicators data and development for SEE region is underway through Platform Indicators Development. For Serbia, EASD team is focused on Environmental Sustainability, Science and Technology , Health and Hygiene and Energy and Environment . EASD promote The World Environmental Education Day, having the great event in school "Vuk Karadžić", Surčin.
The 2nd meeting of the UN Environment Assembly (UNEA) will take place from 23-27 May, 2016 in Nairobi, Kenya. The meeting will be held under the overarching theme: "Delivering on the Environmental Dimension of the Post-2015 Development Agenda." There will also be a Global Major Groups and Stakeholders Forum (GMGSF) held prior to UNEA-2 on 21 and 22 May 2016. Environmental Ambassadors (EASD) is organisation accredited in UNEP/UNEA.
In the preparatory phase, EASD participated in the process of UNEP Redefinition of its Youth Strategy, familiarise with the interactive version of the Bali Guideline Implementation Guide , reviewing new sustainable development agenda (results from open consultation on 'grey' and "green" indicators are now available ).
The 2030 Agenda for Sustainable Development requested the UN Secretary General, in consultation with Member States, to prepare a report in preparation for the 2016 meeting of the High-level Political Forum, which outlines critical milestones towards coherent, efficient and inclusive follow-up and review at the global level, for consideration of the General Assembly. In order to informally contribute to the reflection, Major Groups and other Stakeholders have been invited to provide their views and inputs on these issues by completing an online questionnaire by  15 November 2015. The inputs and responses received is available on the Sustainable Development Knowledge Platform (our organisation is the member of SDKP). In addition, we keep eye on Open-ended Meeting of the Committee of Permanent Representatives to UNEP (OECPR) and Preparatory meeting for the 2nd Session of UNEA, 14-19 February 2016 – we registered our representative to participate.
EASD participated in the UNEP's survey on the involvement of Major Groups and Stakeholders in the generation, utilization and dissemination of environmental information developed by UNEP. Below  some of the key findings are highlighted:
·        63% of the organizations contributed to the generation of environmental information by UNEP to a moderate, large or very large extent
·        Of contributions made, the greatest percentage, 56%, was to UNEP publications.
·        88% have accessed environmental information generated by UNEP; publications were the most common form of information accessed, with assessments and findings, and emerging issues coming a joint second.
·        The most common way in which organizations accessed UNEP information was via the UNEP website, with the second most common mechanism being via email.
·        87%, have made use of information generated by UNEP either to a moderate, large, or very large extent. Organizations primarily used UNEP generated information for educational purposes, as a guide to their own work, or for analysis.
·        86% have contributed to the further dissemination of environmental information generated by UNEP, principally during meeting discussions or through posting on social media.
·        65% experienced no difficulties in contributing to, accessing, using or disseminating environmental information generated by UNEP, but for those who did the main issue was with language constraints.
·        The most effective mode for organizations to be involved in the generation, access, receipt and dissemination of environmental information generated by UNEP was email; this was followed by the UNEP website and through social media.
·        85% successfully received the type of information they needed from UNEP either to a moderate, large or very large extent.
·        Suggestions on how UNEP could improve included:
o        greater interaction from UNEP on social media
o        improvements to websites to make them more user-friendly
o        sending of hard copies of important reports and documents to resource centers
o         the use of shorter bulletin messages to facilitate understanding of the public
o        greater dissemination
o        more translations
o        timely information sharing to allow sufficient time for review and comments
o        the use of Google hangouts, online workshops
o        more active engagement with mass-media (e.g. TV)
We "keep eye" on the multi-stakeholder dialogue will be held on Friday 27 May 2016 from 12:30 hrs to 14.00 hrs, TO BE HELD DURING THE HIGH-LEVEL SEGMENT OF UNEA-2.  It will be open to all interested delegations and will be organized as a moderated, interactive dialogue session. The proposed theme for the dialogue is: "Restoring and sustaining healthy ecosystems for people and planet: partnerships to jointly deliver on the environmental dimension of Agenda 2030".
In February 2016, EASD promote stronger position of Environmental NGOs in the  draft UNEP Stakeholders Engagement Policy (SEP) . More in local language