Environmental Ambassadors for Sustainable Development (Environmental Ambassadors, EASD) is a non-for-profit professional association focusing work on education, as well as the research and science (professional and participant science / citizen science) promotion, in the areas of sustainable development and environment/climate change, through the consultancy, expertise, innovation, capacity building, evidence-based advocacy, promotion of natural and culture values, global equality and environmental/climate justice.
One of the thematic pillars of work is science promotion, including both the professional science and citizens science as an opportunity for greater public engagement in science. In projects/activities, when feasible, we include citizens as contributors and collaborators with a meaningful role (contributing to scientific evidence to address local, national and regional/international issues and potentially to influence policy).
______________________________
Participant science / Citizen science

 
and
science promotion
June 5,2020 – EnE20 Conference "Citizen science: Focus on Agenda 2030 and Sustainable Development Goals"
EnE20 Conference "Citizen science: Focus on Agenda 2030 and Sustainable Development Goals" , planned for June 5th 2020
Ten principles of citizen science
Citizen science concept in terms of adaptation and mitigation to the climate change
Recap the moments from  EnE19/ENV.net Conference
….
2016 Waste, health, sustainability: what way forward? 
2016 EASD Knowledge Partner with CEE for ESD for transforming education for children and youth
Youth Encounter on Sustainability (YES) held in Braunwald, Switzerland and Bratislava, Slovakia.
________________________________________________
Research 
EASD research presented at EurAsia Waste Management Symposium
Criteria for Substances of International Concern Beyond 2020
…..
2016 Waste as the crosscutting issue of SDGs
Scoping the future trends in natural resources availability using selected indicators as measures of progress: the links with interests and values, presented at the 7th CONGRESS OF ENVIRONMENTAL MANAGEMENT – X CONVENCIÓN INTERNACIONAL SOBRE MEDIO AMBIENTE Y DESARROLLO, 6 -10.07.2015, Havana, Cuba
Waste Technology Transfer, 2014
RETHINKING WASTE MANAGEMENT WITHIN THE RESOURCE-EFFICIENT CONCEPT
Places and Technologies 2014: Interconnections between sustainable cities planning and design, climate change and sustainable development.
_________________________________________________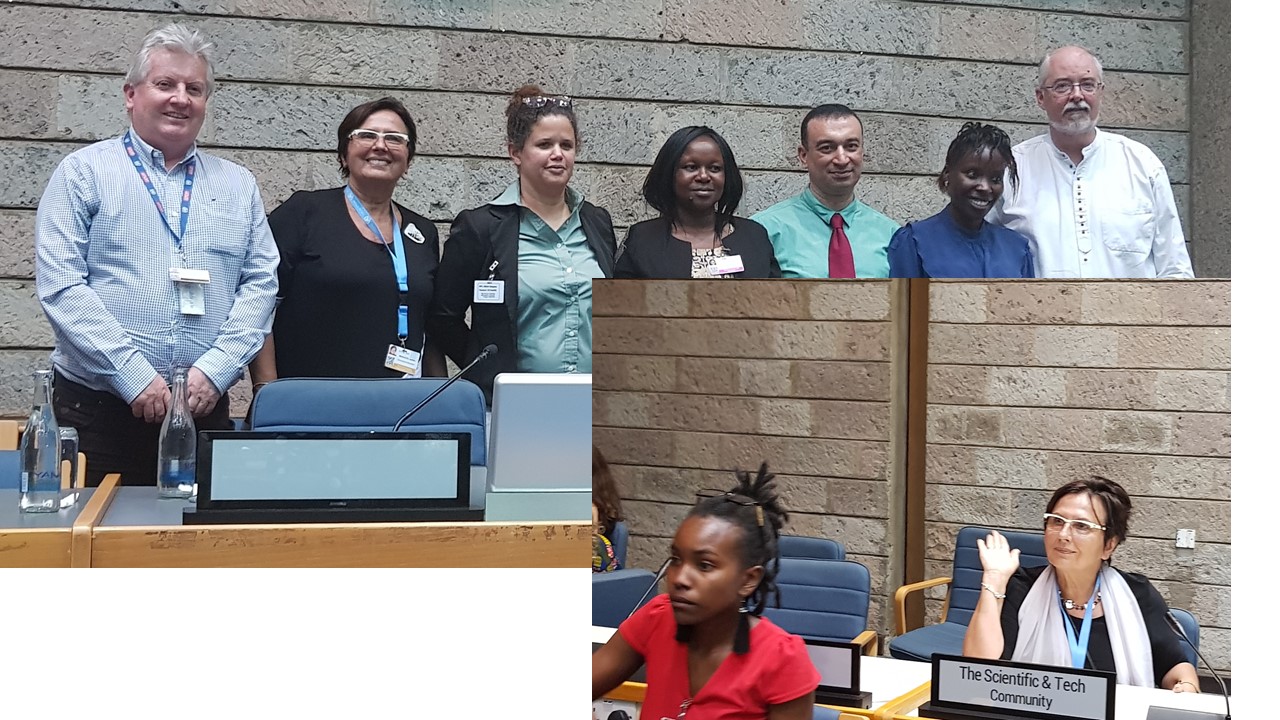 _________________________________________________
Selected scientific and research papers of our honorable members/key experts:
(in referent scientific journals,  after 2004)
Prof dr Andjelka Mihajlov author/coauthor
| | | |
| --- | --- | --- |
| 2017 | Environmental Assessment of Municipal Solid Waste Management in Banjaluka, Bosnia and Herzegovina, Environmental engineering and management journal 16(5):1161-1170 | incineration, landfill, life cycle assessment, municipal solid waste, recycling |
| 2015 | Reduction of CO2 emission and non-environmental co-benefits of bicycle infrastructure provision: The case of the University of Novi Sad, Serbia, Renewable and Sustainable Energy Reviews 49:232-242 | Co-benefits, CO2 emission, Bicycling, Developing cities |
| 2015 | Environmental assessment of waste management in banjaluka region with focus on landfilling, Environmental Engineering and Management Journal, 14 (6), 1455-1463 | landfill, leachate, life cycle assessment, waste |
| 2015 | Rethinking waste management within the resource-efficient concept, Environmental engineering and management journal 14(2):2973-2978 | developed country, developing country, landfilling, waste management, waste policy, waste prevention |
| 2012 | Contaminated sites: solid waste management practice in developing country (Serbia), Environment Protection Engineering 38(1):81-90 | Municipal solid waste management, waste management practice, developing country |
| 2011 | Assessment of air pollution impact on health in Pancevo, Serbia, Journal of environmental protection and ecology 12(4A):2360-2366 | Air pollution, public health, multivariant analysis |
| 2011 | Reporting by selected Analytical Tools for Environmental Management: Hazardous waste management in South Eastern Europe, Journal of environmental protection and ecology 12(2):565-569 | analytical environmental tools, hazardous waste management, environment, south-eastern Europe, the Balkans |
| 2010 | Opportunities and challenges for a sustainable energy policy in SE Europe: SE European Energy Community Treaty, Renewable and Sustainable Energy Reviews 14(14):872-875 | Energy; Climate change; Environment; Renewable energy; Sustainable development;South Eastern Europe |
| 2010 | Improved methodology for assessing the environmental health indicators, Journal of environmental protection and ecology 11(3):941-948 | Environmental health, methodology, environment, air quality, multivariate analysis, GIS |
| 2009 | (NH4)2SO4 corrosion of cement in concrete analyzed by an improved mathematical model, Journal of the Serbian Chemical Society 74(3):331-347 | sulfate; corrosion; Portland cement; coal fly ash; mathematical model. |
| 2005 | Thermodynamic Analysis of the Metastable Regions for the AI2O3‐SiO2 System,Journal of the American Ceramic Society 79(5):1252 – 1256 | Thermodynamic Analysis |
Prof dr Hristina Stevanovic-Carapina author/coauthor
| | | |
| --- | --- | --- |
| 2019 | The socio-economic impact timeline in Serbia for persistent organic pollutants (POPs), Science of The Total EnvironmentVolume 688, 20 October 2019, Pages 486-493 | Socio economic assessment, Persistent organic pollutants (POPs), Environmental impact, Economic development impact, Human health impact |
Prof dr Predrag Simonovic, author/coauthor
2020    THE IMPACT OF SMALL DERIVATIVE HYDROPOWER PLANTS ON FISH SPECIES AND OTHER AQUATIC ORGANISMS IN THE MOUNTAIN RIVER ECOSYSTEMS OF THE REPUBLIC OF SERBIA
| | | |
| --- | --- | --- |
| 2018 | Justification for retention of the Catch-and-Release in the wild brown trout Salmo cf. trutta fishery. Fisheries Research 200: 17-24 | Fly fishing, von Bertallanfy growth model, Tailwater, Trout fishery management |
| 2018 | Alien freshwater fish species in the Balkans – vectors and pathways of introduction. Fish and Fisheries 19 (1): 138-169. | Balkan Peninsula, Distribution, Inland waters, Introductions history, Invasives, Non-native fish |
Prof Dr Zora Dajic-Stevanovic, author/coauthor
2020      Review Balkans' Asteraceae species as a source of biologically active compounds for pharmaceutical and food industry, Chemistry & Biodiversity 17(6):e2000097
2020    Natural Macromolecules as Carriers for Essential Oils: From Extraction to Biomedical Application, Frontiers in Bioengineering and Biotechnology 8
2019    Use of halophytes as medicinal plants: phytochemical diversity and biological activity, in book Halophytes and climate change: adaptive mechanisms and potential uses, First Chapter: 21, Publisher: CABI
Dr Uros Rakic, coauthor
| | | |
| --- | --- | --- |
| 2019 | Health impact of ambient air pollution in Serbia: a call to action, Report, Published by The Regional Office for Europe of the World Health Organization, Denmark | AIR POLLUTION, EXPOSURE, HEALTH IMPACTS, URBAN HEALTH, SERBIA |