Duration of activity / project:
2015-2019
Young Reporters for the Environment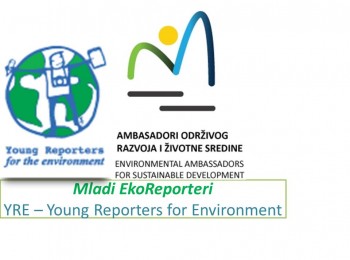 (YRE) is a network of passionate young people educating for sustainable development by producing, engaging, creative, environmental journalism.  Coordinated by the Foundation for Environmental Education (FEE).
Aged between 11 and 21, young reporters investigate and highlight environmental issues and problems, wherever possible proposing solutions, via articles, photographs and videos.
The young reporters must: 1.Investigate a local environmental issue, 2.Submit an article, photographs, or video, 3. Share that work with a local audience
From 2019/20 project is not active in Serbia…..More information at https://www.yre.global/
…..we do have more information in Serbian.
Some selected information:
October 2018: YRE competition: apply before February 1, 2019.; Theme: Energy Efficiency
2018. Join us for June 5th: Conference Agenda is available
May 2017: Winners of the YRE 2017 national  competition announced ; Draft Agenda for Environment to Europe EnE17 Conference (Climate Change Education for Sustainable Development), June 5, 2017, Belgrade
September 2016: Education for Sustainability
June 2016 – YRE Serbia have one 1st place – International Jury meeting for the 2016 ; WED Messages from Serbia: 12th Regional Conference "Environment to Europe"
___________________________________________________
National FEE Committee Meeting, September 6, 2013 
___________________________________________________