The first meeting of the Conference of the Parties to the Minamata Convention on Mercury (COP1) was held from 24 to 29 September 2017 at the International Conference Centre in Geneva, Switzerland. The first meeting of the Conference of the Parties has multiple objectives, including procedural, political and celebratory. COP1, as a milestone in the Minamata journey, provides a unique opportunity to raise global awareness of the Convention, in particular at a high level, and to focus attention on the far-reaching impacts that the successful implementation of the Convention will achieve. It is an historic opportunity to celebrate the Convention and the achievements to date and to provide motivation and momentum to all as they take the next steps towards full implementation.
The Minamata Convention addresses all aspects related to the use of mercury and sets out measures to:
•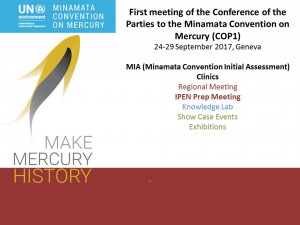 ban new mercury mines and phase-out existing ones;
•             reduce the use, emissions and releases of mercury from artisanal and small-scale gold mining and major industrial activities;
•             phase-out and phase-down the use of mercury in a number of mercury-added products and processes, specifically its use in dental amalgam;
•             restrict trade and prohibit the manufacture, import and export of mercury and a wide range of mercury-added products such as batteries or lights;
•             control and reduce air emissions and land and water releases;
•             ensure the safer storage and proper management of mercury waste.
Environmental Ambassadors for Sustainable Development (Environmental Ambassadors, EASD), as accredited organization, participated as the Observer.
EASD representative participated at IPEN Preparatory Meeting, Regional Meeting, Opening Ceremony, Thematic Session focus discussions on mercury as relevant to Land, MIA (Minamata Convention Initial Assessment) Clinics (where countries with UNEP, UNDP and UNIDO and partners showcase their MIA work, including lessons learned), as well as some Showcase Events and Knowledge Labs. To note that MIA for Serbia is under development  (EASD contribute as stakeholder…). Also, EASD representative at Minamata COP1 communicate with official delegation of Serbia.
A "Hg-week" ("Mercury" week) coincide with COP1 and physically have its main hub in Geneva starting on Friday, 22 September and ending Thursday 28 September 2017. It featured a series of awareness raising events around the issue of Mercury. The objective of the "Hg-week" is to reach out to participants at COP1, as well as the public, students, and other experts and stakeholders interested in the field of chemicals and health.

We provide our input on the first draft of the 'Global Review of Mercury Monitoring Networks'. We suggest to add visualized layer of locations "of burning of fossil fuel " and "small scale mining"  (or to make a reference if already exists at global scale).
The review is being developed within the framework of the project "Development of a Plan for Global Monitoring of Human Exposure to and Environmental Concentrations of Mercury", funded by the Global Environment Facility. It seeks to compile and synthesize available information on existing mercury monitoring networks, including (i) air monitoring, (ii) human biomonitoring, and (iii) biota monitoring. It also seeks to highlight gaps in the coverage and scope of the monitoring networks. Thus the report aims to provide a baseline for future activities, including the promotion of further coordination and cooperation between the various networks.
The draft review will be submitted by UNEP Chemicals and Waste Branch to the interim secretariat of the Minamata  Convention on Mercury in response to the first call for information of the seventh session of the intergovernmental negotiating committee on mercury (INC 7), which, among others, invited stakeholders to submit to the interim secretariat information on existing monitoring programmes and how they can contribute to an overall monitoring approach, including availability of baseline information.
The main messages from this participatory ENV.net event are: environmental sector activities should be knowledge based, and education for environment and sustainable development should be priority. Capacities and continuity is very important for inclusion environment in other sectoral policies. Conference is institutionally supported by Ministry of Energy, Development and Environmental Protection and Ministry of Natural Resources, Mining and Spatial Planning, as well as National Commision for UNESCO.  Draft Agenda ( Agenda FINAL on 06 06, strane 2-8 ) and CD Proceeding of Papers are published. This Conference is UNEP WED event.
At the opening session,   Mrs. Prof. dr Zorana Mihajlović, Minister of Energy, Development and Environmental Protection of Republic of Serbia,  Mr. Christoph Eichen, First Secretary Economic Cooperation, Embassy of Germany in Serbia,  Mr Andrew Headey, EC Delegation in Serbia, Mr Jürg Staudenmann Deputy Resident Representative UNDP Serbia,  SEIO Representative,  European Integration Office, Government of the Republic of Serbia,  Mr. Prof dr. Ivica Radović, Assistant Minister, Ministry of Education, Science and Technological Development of the Republic of Serbia,  Mr Klaus Schmidt  – Team Leader of IMPACT project – Deutsche Gesellschaft für Internationale Zusammenarbeit (GIZ) GmbH, Representative of  Eptisa Regional Office for SEE, as well as Mr Dušan Stokic of Serbian Chamber of Commerce and Industry, shared the views related environmental sector and EU Integration. Event is officially oppened by Mr. Goran Trivan, Secretary for Environmental Protection, City of Belgrade.
Municipal Infrastructure Support Programme (MISP), EU-IPA Project, EPTISA, is presented by Dragana Vasić, Deputy Team Leader. MFA, LCA and Cleaner Production as Analitical Tools in Environment are presented by , prof. dr Hristina Stevanović Čarapina, IMPACT project- Deutsche Gesellschaft für Internationale Zusammenarbeit (GIZ) GmbH representative.
The Importance of the Participation of Civil Society Organizations in Decision-Making Process is addressed by  Milena Banović, Office for Cooperation with Civil Society, Government of the Republic of Serbia Representative .
Analysis of current status of EU Environmental Integration and ENV.net project  is presented by Prof dr  Nataša Žugić Drakulić, National Coordinator, ENV.net Project .
Coordinator for Conference is Doc dr Dunja Prokić.  Conference chair person is Prof f dr Andjelka Mihajlov. 
Conference is supported by: Eptisa Regional Office for SEE, Hemofarm fond i Coca Cola Hellenic.
Selected presentation: Dragana Vasić EnE13 -MISP for Serbia
More selected presentations in Serbian.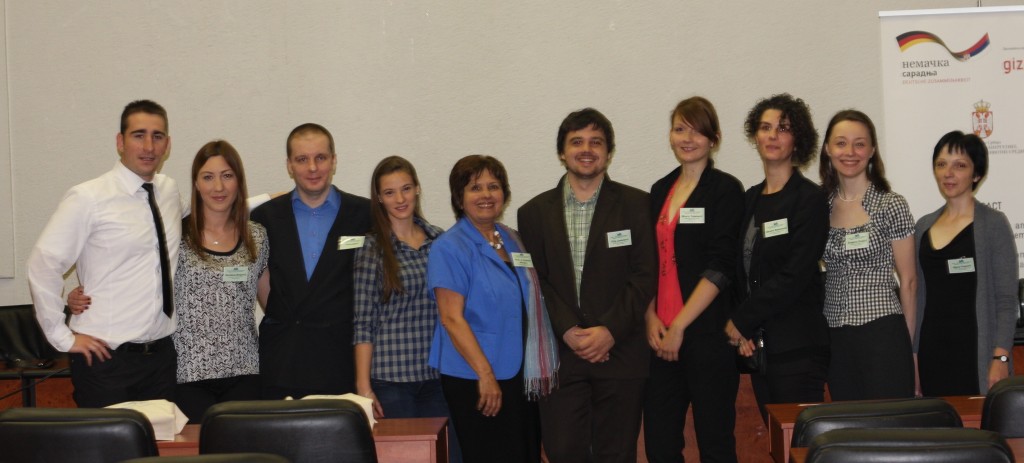 EASD Team
 Minutes from event are posted in gallery. 
Reported by ACUNS, UNEP, FEE.
———————————————————————————————————————————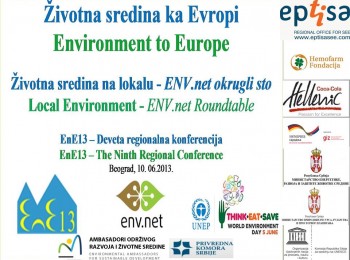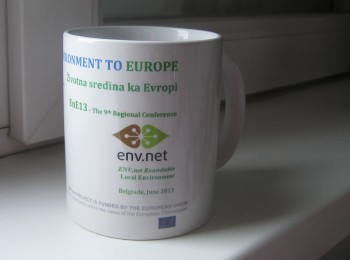 On behalf of Organizing Committee of the ninth Regional Conference "Environment to Europe-EnE13", we want to inform you that the conference will be held  on 10 June, 2013, presenting one of the events for World Environment Day (UNEP), as well as conference supporting EU accession process in sector Environment  through project "Development of the ENV.net in West Balkans and Turkey: giving citizens a voice to influence the environmental process reforms for closer EU integration". Serbian Ministry of Energy, Development and Environmental Protection acknowledged the importance of this Conference.
 The theme for this year's World Environment Day celebrations is Think.Eat.Save. Think.Eat.Save is an anti-food waste and food loss campaign that encourages you to reduce your foodprint.
Focus thematic issue this year is Local Environment. Each year EnE Conferences have different thematic focus.
We are inviting you to active participate on the Conference Environment to Europe – EnE13, either by preparing and presenting your paper, or by contributing as an auditor and participant (f application form_EnE13, Gidelines for paper preparation EnE13) . 
Invitation is also distributed through FEE and ACUNS.
Application forms (with or without paper) and abstracts-papers send using email contact: conference.ene13@gmail.com
Important dates:
Deadline for submission of applications form  (for participants wishing to participate with paper): April, 15th
Deadline for submission of abstracts: April, 25th
Abstract acceptance notification: May, 6th
Deadline for submission of paper (extended abstracts): May, 15th (3-6 pages, in English or in Serbian / other language from former Yugoslavian Republics with Abstract in English)
Paper acceptance notification: May, 27th
Early registration deadline: May, 27th
Late registration deadline: May, 31st
Deadline for submission of application form without paper: May, 31st
Conference: June,  10 
Participation  fee :
Registration fee paid by May, 23 is 55 €
Regular price registration fee is 100 €
Payment: for details / account, please contact organizers by Email
Students are exempt from paying the registration fee.
Conference (EnE conferences) contributes to:  EU and Accession, Regional Cooperation, International Cooperation, UNEP promotion , represent Scientific and other Conferences, Educational Signals and Courses, Scientific Signals and Projects, Promotion of Science, as well as Environmental Experts' Networking   
_______________________________________________________________________________________________________