Duration of activity / project:
09/2020-08/2022
WatSanPlan (Water and Sanitation Safety Planning in the Balkan Region: Albania, North Macedonia, Romania and Serbia ). In cooperation with WECF, EASD is promoting  WSSP in Serbia, through extension and revision of the WSSP compendium, WSSP educational materials & concepts,  improve qualification of teachers and students in a Serbian community, conduct media campaign to motivate citizens to measure nitrate levels in water on their own, conduct relevant analysis and publication of results. The actions include public actions by students and teachers on the selected UN World Days, presentation of the project at the Regional Forum on Sustainable Development of the UNECE (Economic Commission for Europe) in Geneva (Switzerland, March 2022), and  in Berlin for BMU and other interested parties. All partners should get to know each other, tasks and responsibilities will be discussed in detail and assigned to individual persons. Milieukontakt Albania (MA) and Environmental Ambassadors for Sustainable Development (EASD) will be officially included in the Balkan WASH network.
Project is supported by funds from the Germen Federal Ministry for the Environment, Nature Conservation and Nuclear Safety (BMU). EASD signed contract with Women Engage for a Common Future – WECF e.V., Germany. The timeframe of the project is from 01 September 2020 to 31 August 2022.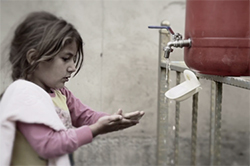 ____________________
EASD  is at World Water Week ( Stockholm 2022)
UNEP@50 and World Environment Day
Joining the World menstrual hygiene day 2022; Reflection
BE CONNECTED WITH THE REGIONAL UNECE FORUM ON SUSTAINABLE DEVELOPMENT
Link for Survey :  SVETSKI DAN TOALETA 2021. GODINE – Učestvujte u istraživanju koliko su održivi načini tretmana otpadnih voda iz (Eko)škola u Srbiji –
TRAINING FOR STUDENTS – ALEKSANDROVAC, OCTOBER 22, 2021
Satellite-like activity in Serbia (and region): Serious of "Seminars for Climate and Environment Ambassadors"
Training for trainers on water safety and sanitation
(Razvoj plana za bezbednost vodosnabdevanja i sanitacije u ruralnoj zajednici )
Information paper on Climate Change and Floods
Promotion by media (in Serbian, Da li smo spremni za sve češće poplave? )
Promotion in schools (in Serbian, Kako smanjiti i sprečiti širenje infektivnih bolesti u školama )