Green Key National Operators from 39 countries as well as Green Key's corporate partners participated in the Green Key National Operator Meeting on 27-30 March 2017 in Athens. This year Green Key National Operator Meeting is dedicated to the International Year of Sustainable Tourism for Development.
The Green Key National Operator Meeting is an annual event where the status and developments of the Green Key programme are discussed. As the UN designated 2017 as the International Year of Sustainable Tourism for Development, the NOM was dedicated to the celebration of this special year for sustainable tourism.
Sustainability lies at the heart of Green Key, and with each establishment joining the programme, Green Key helps transforming the tourism sector into a powerful tool for positive change. Tourism providers and tourists alike are becoming more and more aware of the need to change everyday habits to protect today what we would like future generations to enjoy tomorrow. This is why not only the number of Green Key awarded sites is growing year after year, but also the tourists' awareness of the ecolabel.
During the National Operator Meeting Green Key International presented the planned activities to celebrate the IY2017 and encouraged all members to join the celebration in their countries all over the world.
Green Key is actively participating in the IY2017 both through the daily work of the programme , but also through activities that will be specifically dedicated to the IY2017 this year. One of them will be a best practice competition that will highlight the contribution Green Key awarded sites are making to the sustainable development of their destinations.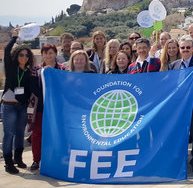 EASD President Aleksandra Mladenovic participated at this meeting. EASD is National Operator for Green Key in Serbia.