EASD presented on August 3, 2021, research paper Environmental Communication: Media Archive Reports as a Participant Science Tool (Authors are A.Mihajlov, A.Mladenovic, F.Jovanovic) at 6th International Conference on Communication and Management (ICCM2021), hosted and organized by Communication Institute of Greece.
By sharing experience, this paper justifies environmental communication through the media archive reports as participant science tool, considering that journalists/media are representing citizens (with common interests). In the case of Serbia, illustrative justification that media archive reports could be used as participative tool to supplement official observation and monitoring, is presented, showing that the same trends of citizens/journalist's attention to environment and environmental performance and progress (in the European Union accession process) in Serbia. In timeline, when sector environment has better performance, it is bigger interest of citizens/journalists/media to environmental issues.
This article benefited from the European Union funded project "ENV.Net Factoring the Environmental Portfolio for WB and Turkey in the EU Policy Agenda" (2017/394-372). The views expressed in this paper do not necessarily reflect the views of the European Commission. Also, authors would like to express gratitude to Media archive Ebart, Belgrade, Serbia for contribution in data collecting. Data used in this paper were gathered through the research on nexus media-environmental issues in Serbia, which was based on initial idea jointly developed by respective journalist Velimir Ćurgus Kazimir (1948-2018), Media Archive Ebart founder and this paper co-author Andjelka Mihajlov, co-founder of Environmental Ambassadors for Sustainable Development.
By this presentation Prof Mihajlov, as paper presenter,  also informed and inspired climate actions in contribution to the European Climate Pact , empowering citizens to shape a greener Europe…..participants of this Conference was great 'communication network" for this. To note that in July 2021 Prof Andjelka Mihajlov, Environmental Ambassador for Sustainable Development, was acknowledged by European Commission DG Clima as European Climate Pact Ambassador , among others for Green skills .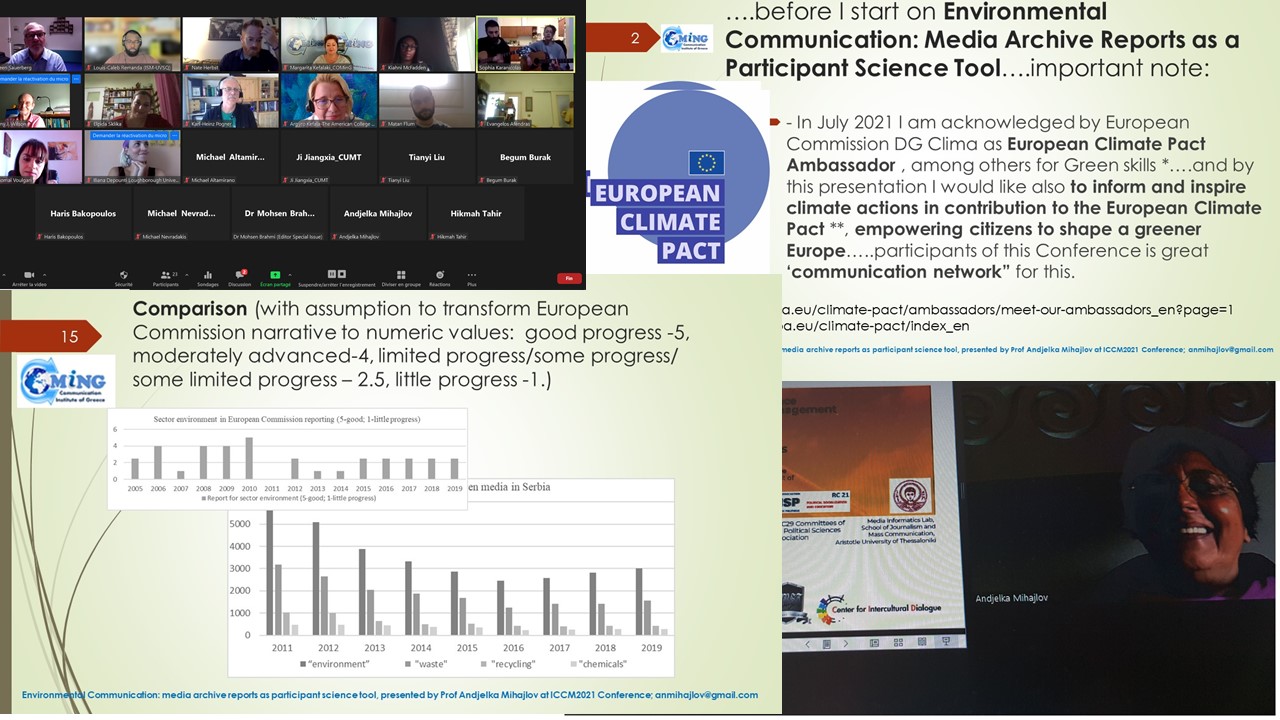 Ref.: Environmental Communication: Media Archive Reports as a Participant Science Tool (Authors: A.Mihajlov, A.Mladenovic, F.Jovanovic) , Abstract Book "Communicating in a 'Modern' Word" , 6th International Conference on Communication and Management – ICCM 2021, page 30, Edited by Communication Institute of Greece (COMinG), ISBN: 978-618-81861-9-4 (2021)