Mr Riza Epikmen, member of the FEE Board of Directors , as the International Mentor for  FEE Serbia (Environmental Ambassadors for Sustainable Development), visited Serbia from June 14-16, 2013. The FEE Board responsibilities include ensuring compliance with the organisation's objectives/values, recommending policies/plans, approving membership applications and monitoring performance in relation to plans, budgets, etc. In 2011 and 2012 International Mentor for FEE Serbia was Michael Ierides.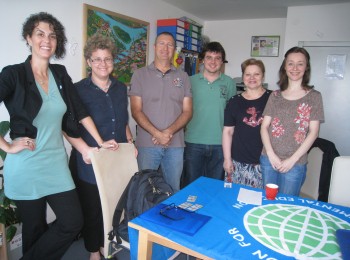 On June 14th he visited FEE Serbia office, where he had the first meeting with EASD core team, including National FEE Mentor Andjelka Mihajlov, National Blue Flag Program Coordinator Sandra Radunovic and Assistant to National Eco-Schools Coordinator Dragana Grujicic.
In order to be informed of Eco-Schools Program implementation, he visited school "Drinka Pavlovic"  , applied for "Eco-School" award and waiting for Jury decision. Dedicated teachers  and director presented how the school is implementing program.
On meeting in the premises of Tourist of Organization of Serbia, members of FEE National Council and ministries competent for environment and tourism representatives have constructive discussion with Mr Epikmen, focused on his advice related to Green Key Program implementation and plan of FEE Serbia to become FEE full member in 2014.
On June 15th, he has site visit to 2013 Blue Flag Beach (Ada Ciganlija-Sava lake) and participated in ceremony for Blue Flag 2013 season opening.
Minutes from Monitoring visit are in the Gallery.
Some pictures from TV-video coverage: