Duration of activity / project:
2020-2022
The aim of the IPEN global plastics monitoring project is to raise awareness locally and globally about hazardous chemicals in recycled plastics used for consumer products. The project targeted recycled plastic pellets of high-density polyethylene (HDPE) sold from small-scale, local operations, since this is one of the most commonly used material for consumer products. These have been analyzed for UV stabilizers, Decabromodiphenyl ether (deca BDE) and PCBs.
Environmental Ambassadors for Sustainable Development participated in the project as IPEN participated organization. The recycling facility EASD used as project site is situated in north-west Serbia, and there are app. 75 employees. The facility was founded 15-16 years ago. 75% of products are for the export, to the Central European Countries (Poland, Czech Republic…). Other 25% is sold to the domestic plastic producers (placed around Serbia), which use these recycled plastic pellets to produce plastic products, but not for food storage.
There are several steps performed to produce recycled plastic pellet, from yield small pieces of plastic (flakes or fragments) to the pellet that is using in next steps of production cycle.
All secondary raw material is used in the recycling process ("zero waste" at the end of the process). They use plastic breakage and waste from its production to make plastic buckets for the construction sector, black colored.
The input plastic is coming from unformal secondary raw collectors, but the large number are also imported.
The samples of plastic pellets were used from the facility and sent to IPEN to be analyzed. The samples were analyzed at the University of Chemistry and Technology Prague in the Czech Republic. More at …..
Presentations:
Widespread chemical contamination of recycled plastic pellets globally
Global plastic pellet samplings – Results and briefing
Press Release:
Further promotion of results:
April 28, 2022 – Participating  at Local Round Table in Perlez, municipality Zrenjanin, presenting issues of toxic additives in plastics pellets and IPEN study, as well as  capturing synergies between plastic pollution (and with decarbonization and climate change. About 10 people from this small town participated.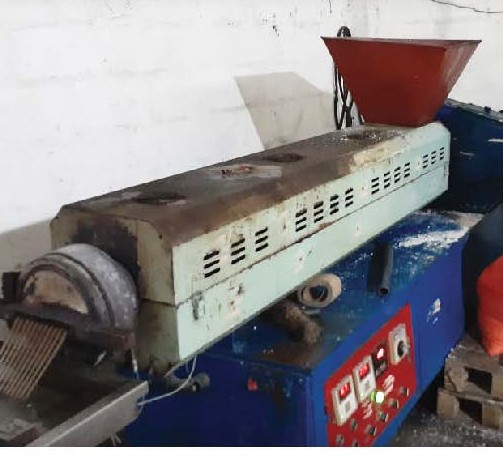 Activities of awareness raising in Serbia  are posted on site in Serbian language.