Duration of activity / project:
Aug 2021-Dec 2021
EASD is a Project Partner. A contract was signed at the MIS premises on Thursday, July 29, and the realization of this project begins on August 1 and lasts until December 31, 2021.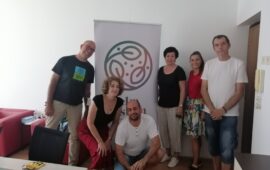 The Working group of the "Green Chairs" mechanism has decided that the Center of Modern Skills (CMV) will be the leading partner in the project "Stable and strong" Green Chair "for greater influence on decision makers." Together with network members and partners of the BFPE Foundation for Responsible Society, EASD – Environmental Ambassadors for Sustainable Development, Environmental Association "Zeleni sad" and Aarhus Center Novi Sad, CMV will implement this project by the end of this year as part of the ECO-SYSTEM program, implemented by  Young Researchers of Serbia (MIS), and supported by Sweden.
Ref link:  https://cmv.org.rs/saopstenja-categoriy/eko-sistem-program/