By the decision of the Economic and Social Council (ECOSOC)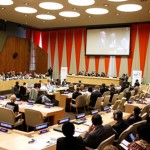 at its Coordination and management meeting of July 2015 granted special consultative status to our organization, Environmental Ambassadors for Sustainable Development.
Consultative status for an organization enables it to actively engage with ECOSOC and its subsidiary bodies, as well as with the United Nations Secretariat, programmes, funds and agencies in a number of ways, as well as the obligations for our organization will be required to meet under this relationship.
For EASD Team it is big recognition, as well as encouragement for further work!!!!