The Sustainable Development Solutions Network (SDSN) has recently published its final report on Indicators and a Monitoring Framework for the Sustainable Development Goals: Launching a data revolution for the SDGs. This report is the result of over 18 months of consultations led by the SDSN with the contributions of nearly 500 organizations and thousands of individuals – draft versions of the report have so far been downloaded over 80000 times.The report outlines a tiered monitoring framework at the national, global, regional, and thematic levels, and presents a concise set of 100 Global Monitoring Indicators. This limited number of indicators can comprehensively track all 169 OWG targets while balancing countries' capacities and domestic monitoring commitments. This report is a contribution to the ongoing post-2015 processes, including the Inter-Agency and Expert Group on the SDGs (IEAG-SDGs).
Environmental Ambassadors for Sustainable Development is  the Member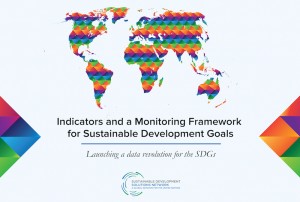 of the Sustainable Development Solutions Network – SDSN .
We follow Informal interactive hearings with representatives of NGOs, CSOs, major groups and the private sector on the post-2015 development agenda, in NY.
One more publication , as the outreach in Rio+20 process is 
2015 Food Security Report
, with
 key findings
 : 

– For the world as a whole, the MDG 1 indicators for prevalence of undernourishment and underweight children under 5 years of age have largely moved in parallel, providing a consistent message regarding achievement of the hunger target; – Underweight in children is expected to decline less rapidly than undernourishment, given that better hygiene conditions, access to clean water and more varied diets usually require more investment and more time to materialize than enhanced availability of calories: – Despite showing rapid reduction, Southern Asia is the region with the highest historical prevalence of underweight children among the developing regions; – In sub-Saharan Africa, there has been limited progress in reducing both undernourishment and child underweight; – Economic growth is necessary for sustaining progress in efforts to reduce poverty, hunger and malnutrition. But it is not sufficient; –  Inclusive growth – growth that provides opportunities for those with meagre assets, skills and opportunities – improves the incomes and livelihoods of the poor, and is effective in the fight against hunger and malnutrition; – Improving the productivity of resources held by family farmers and smallholders is, in most cases, an essential element of inclusive growth and has broad implications for the livelihoods of the rural poor and for the rural economy in general; –  In many situations, international trade openness has an important potential for improving food security and nutrition by increasing food availability and for promoting investment and growth; – Social protection directly contributes to the reduction of hunger and malnutrition by promoting income security and access to better nutrition, healthcare and education; –  Prevalence of food insecurity and malnutrition is significantly higher in protracted crisis contexts resulting from conflict and natural disasters.

For more  information