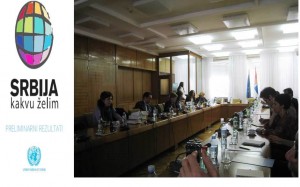 On May 13, 2013, in Palace Serbia in Belgrade, the final discussion  of   preliminary results  within National Consultation u process of National Consultation "The Serbia we Want" took place.
Discussion was moderated by prof. dr Slobodan Cvejić, followed by statements of prof. dr Mladen Lazić, prof. dr Mihail Arandarenko, prof. dr Anđelka Mihajlov, doc. dr Danilo Vuković and dr Svetlana Stanarević.
Concluded remarks contributed to UN process related to recommendation for Sustainable Developmet Goals – SDGs after 2015, to follow MDGs.  UNDP launched an unprecedented global conversation through which people can help shape the future development agenda after 2015 when the Millennium Development Goals (MDGs) expire.