Eighteen projects (selected out of 172 applications) will be funded for the next two years by the European Union as a part of Instrument for Pre-accession Assistance (IPA) and Civil Society Facility (CSF) funds. More about these projects at  (https://sites.google.com/site/ipacsffpa132438/)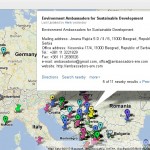 Environmental Ambassadors for Sustainable Development is participating as a partner in one of the selected projects: Development of the ENV.net in West Balkan and Turkey: giving citizens a voice to influence the environmental process reforms for closer EU integration.
On the 21st of January, 2013, the European Commission organized a joint kick-off meeting in Brussels, for the project leaders and partners of the 18 selected projects.  The purpose of the meeting was to give project coordinators detailed information on administrative and financial aspects of managing their projects.  It was also an opportunity to meet EU and TACSO representatives and to network with other project coordinators.
Together with five other partners participating in the ENV.net project, Environmental Ambassadors for Sustainable Development representative (Natasa Zugic-Drakulic) attended this meeting.