Environmental Ambassadors for Sustainable Development contributed in drafting of the document "National profile of Serbia" "2018 edition of the More from Less report of European Environmental Agency (EEA) – also to be included in SOER 2020.  More for Less 2015 edition is available
National Profile was compiled by Serbian Environmental Protection Agency, with contribution of Chamber of Commerce and Industry of Serbia; Cleaner Production Centre of Serbia; Environmental Ambassadors for Sustainable Development; Ministry of Economy; Ministry of Environmental Protection; Ministry of Mining and Energy; Provincial Secretariat for Energy, Construction and Transport; Republic Secretariat for Public Policies; Republic Water Directory; and Serbian Environmental Protection Agency.
European Western Balkans Interview: Andjelka Mihajlov, Environmental Ambassador for Sustainable Development
Prof dr. Anđelka Mihajlov, Environmental Ambassador for Sustainable Development, is a Full Professor at Faculty of Technical Sciences, the University of Novi Sad and Coordinator for environment and green economy at the Public Policy Institute. UN and EU expert, scientist and consultant. She has more than 300 published scientific papers. In last 20 years, her frameworks of the professional orientation are the environment and sustainable development.
European Western Balkans: What are in your opinion, the biggest ecological problems in Serbia?
Andjelka Mihajlov: The decades in which values and prosperity were/is created based on the principles of traditional economic models not managed to change ever-growing excessive consumption of natural resources and to fight marginalization of environmental issues. This is diagnosis for all over the Western Balkan region. My opinion is, that despite some good and very good snapshots and flagship cases relevant for environment sector, the highest environmental problem in Serbia, as well as in all countries in region, is "position" of sector in agenda of development: not among priorities and priority concerns.
EWB: Serbia expects one of the most difficult chapters in the negotiations with the EU, Chapter 27 relating the environment. In what extent is Serbia preparing for the opening of this chapter?
Serbia is having now 14 years of commitment to EU membership. In environmental sector it was, and it is a great challenge, especially having in mind "grey and brown environmental heritage".  In the frame of these more than ten years of actions, I could tell that improvement is respectable. However, a lot of issues remain unsolved.
In 2012 Serbia became a candidate for EU membership, and on 21st of January 2014 officially opened accession negotiations. Environmental negotiation process in Serbia started with Explanatory screening in September 2014, and followed with bilateral screening in November 2014.  Screening report is expected by EC sometimes in 2015. Progress towards EU in the sector Environment (and Climate Change) vary from limited progress (2005), to moderate advanced (2006), little progress (2007, 2008, 2013,2014), some progress (2012), progressed well (2011), the establishment of ambitious legislative program (2002-2004), and to good progress (2009,2010).
And coming back to the question, Serbia is prepared and preparing to open negotiation in Chapter 27, with strong message from my side: it is crucially important to include people/experts with appropriate knowledge, skills and experience, as well as to effective coordinate actions with other sectors.
EWB: What will pose as a major challenge in this chapter?
AM: One of the main challenge is to harmonize socio-economic development with EU's Resources-Efficient and Low-Carbon Policies and to implement in national legislation, already transposited EU environmental acquis at large extend.
I would like to underline a few national strategic documents: Strategy towards EU accession (2005), National Environmental Program (2010), with Action Plan (2014/15) and the 2011 National Environmental Approximation Strategy.  The last one sets three goals: full and high quality transposition of the EU environmental acquis; maintenance of effective and affordable environmental infrastructure and services; and institutional arrangements for efficient approximation.
EWB: How much are events such as IV International Miteco Forum important in this process?
AM: I should acknowledge the intention of the Miteco Forum to bring professionals and experts to the floor, together with governmental official, international organization representatives and all interested in subject. I am very happy that I had opportunity to share reflection from 2014 European Resources Forum, just finished in Berlin, where I participated. I talked on Panel, promoting sustainable use of natural resources in hand with climate change actions. The part of my presentation was short introduction of the Seventh Environmental Action Program to the Miteco Forum audience.
And one more value of Miteco Forum – this is starting to be growing "family gathering" of professionals interested in environmental and waste issues. My pleasure is to see among them, my colleagues, followers, former and current students and civil society fellows.
EWB: What do you think is a good model for solving the problems of industrial and hazardous waste in companies that are in the process of restructuring?
AM: It is known, that personally I "entered" environmental sector through "hazardous waste door". For years I was technical expert on Basel convention issues.
I do support main principles of preventive measures and environmentally friendly measures for and future generations' well-being.
I do not support "one model fit all" in solving historical and existing pollution, mainly related to the industrial and the hazardous waste, in companies changing ownerships.
Environmental Due Diligence and environmental liability tools, combined with technical feasible solutions, could serve as the guideline frame.  For now, when country do not have licensed hazardous waste facility, technical feasible solution is the export of hazardous waste (as it is practice in Serbia).  It has to be understand, that when changing the ownership of company it should go hand-in-hand with proposed solutions and decision who is paying.
EWB: What are benefits of Serbia joining the European Union when it comes to the field of environmental protection?
AM: With EU accession and membership, Serbian citizens should have great benefits to share the same, high environmental values.
Empowering the environment sector, including promoting knowledge based actions and straightening expert capacities, as well investment in infrastructure that supports all aspects of sustainable development (sustainable/green growth) with socially sensible job creation, are challenges we are facing. We should "position" environment sector much higher in the agenda of development!
Andjelka Mihajlov was a member of the Serbian Government as the Minister for Protection of Natural Resources and Environment from June 2002 to March 2004, commencing significant reforms in the environmental sector in the country, with significant results in international and regional cooperation. In 2006, UN Environment Program identified her as the woman "environmental leader of the Western Balkans". Prof. Mihajlov headed the expert team which prepared the Study on Green Economy for Serbia which was the basic platform for participation of the Serbian delegation at Rio+20 UN Conference in Brazil. In the period from 2005 to 2010, she was the member of the Environmental and Social Advisory Council to the European Bank for Reconstruction and Development in London. She is a member of the National Committee for UNESCO and the Committee for Environment and Sustainable Development of the Serbian Chamber of Commerce. She is national mentor for Foundation for Environmental Education with the seat in Copenhagen
Environmental Ambassadors for Sustainable Development  participated at the "Global Major Groups and Stakeholders Forum (GMGSF-14)", and "The First Universal Session of the Governing Council/ Global Ministerial Environment Forum (GC-27/GMEF)," Nairobi, 16-22 February 2013.  Ministers meeting for the first time under universal membership of 193 member states- again as a result of the decisions taken and adopted last year at Rio+20 and the UN General Assembly later in the year- adopted a welter of other decisions relating to the way UNEP will operate and work as the global platform for environmental policy-making and action over the coming years and decades.  Governments called for  the transformation of the existing Governing Council into a UN  Environment Assembly of UNEP and to build stronger links between UNEP's science-based Global Environment Outlook process and its ministerial meetings – further implementing the call  by member states at Rio + 20to strengthen the science-policy interface. 
Among the wealth of other decisions taken at the first Universal Membership of the UNEP Governing Council were: 1.  A UNEP-led consortium will host and coordinate the Climate Technology Centre and Network (CTCN) which will be the implementing arm of the Technology Mechanism of the UN Framework Convention on Climate Change (UNFCCC), 2. The CTCN will work on leap-frogging the technical and financial hurdles to the even greater take-up of clean and renewable energies to low carbon tranportation and energy efficient buildings, 3. Full operationalization of a decade-long initiative to decouple economic growth from unsustainable use of natural resources and pollution generation-the 10 Year Framework of Programmes for Sustainable Consumption and Production Patterns (10YFP for SCP), 4. The UNEP-hosted initiative will assist countries in areas from sustainable public procurement, lifestyles and education to sustainable buildings and construction and sustainable tourism, including ecotourism – again bringing from outcome to implementation other key aspects of the Rio+20 Future We Want, 5. Governments also decided to convene in October this year an intergovernmental diplomatic conference to formally adopt the Minamata Convention on Mercury that was agreed  in January in Geneva under a UNEP-facilitated negotiation-again a further implementation of the Rio+20 outcome document.
Over 1300 participants from 147 countries, including 80 ministers, representatives of UN agencies, international organizations, academia, NGOs, business and industry, and women and youth organizations attended the first Universal Session of the GC following the decision of the United Nations General Assembly to strengthen and upgrade UNEP, as called for in the Rio+20 outcome document. Delegates adopted 13 decisions, on inter alia:
-       the Intergovernmental Science-Policy Platform on Biodiversity and Ecosystem Services (IPBES);
-       coordination across the UN system, including the Environment Management Group (EMG);
-       oceans;
-       sustainable consumption and production;
-       the green economy in the context of sustainable development;
-       advancing justice, governance and law;
-       state of the environment; and
-       chemicals and wastes.
The GC adopted a decision on institutional arrangements that, inter alia, invites the UN General Assembly to rename UNEP's governing body "UN Environment Assembly," and provides that the body "will ensure" the active participation of all relevant stakeholders and explore new mechanisms to promote transparency and effective engagement of civil society in its work and that of its subsidiary bodies, inter alia, by: developing by 2014 a process for stakeholder accreditation and participation that builds on the existing rules of procedure and takes into account the inclusive modalities of the Commission on Sustainable Development (CSD) and other relevant UN bodies.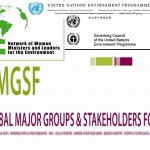 The day before the Governing Council got underway, the Network of Women Ministers and Leaders for the Environment (NWMLE) and UNEP hosted the second High-Level Gender Forum. Prof Andjelka Mihajlov participates, by invitation to "Gender Forum" as a member of the "Network of Environmental Women Ministers and Leaders", as the former Minister for Protection of Natural Resources and Environment.  The forum participants called upon ministers and environmental leaders to have dedicated officials for coordination of related gender and environment programmes and agreed to send a consolidated proposal on gender actions to be forwarded for consideration by UN Secretary General's High-level Panel of Eminent Persons on the Post 2015 Development Agenda. The women ministers also requested nations to support the ratification of the Minamata convention on Mercury, which opens for signing in October.
More about meetings at  www.unep.org .  Moments from EASD participation are in Galleries of pictures. These activities are foreseen as the important international cooperation activities.
Prior to this, organisation participate at Rio+20 Conference.